Following a discussion with a friend where it was pointed out to me that the Lutherans teach the Scripturalness of having an "obedient faith", I set out to explain the difference between their position and that which is held in the church which also teaches the necessity of an obedient faith (Romans 1:5; 16:26).
In the Lutheran church, the teaching of salvation by "faith alone" is prominent in their doctrinal stand. "Faith alone" is the exact opposite of "obedient faith". Teaching the necessity of obedience is contrary to their understanding of salvation by "faith alone". Grace alone, faith alone, and Word alone is the Lutheran creed.
It is perhaps true that Lutherans teach the necessity of an obedient faith AFTER the person's salvation. This before and after teaching on faith by the Lutherans is depicted in the illustration below. The church of Christ position is distinguished from Lutheran teaching in that from beginning to end, from the moment one hears the Gospel and moves toward salvation to the person's last breathe, it is an "obedient faith" that is called for in Scripture. In the illustration below, I show the position of the two churches: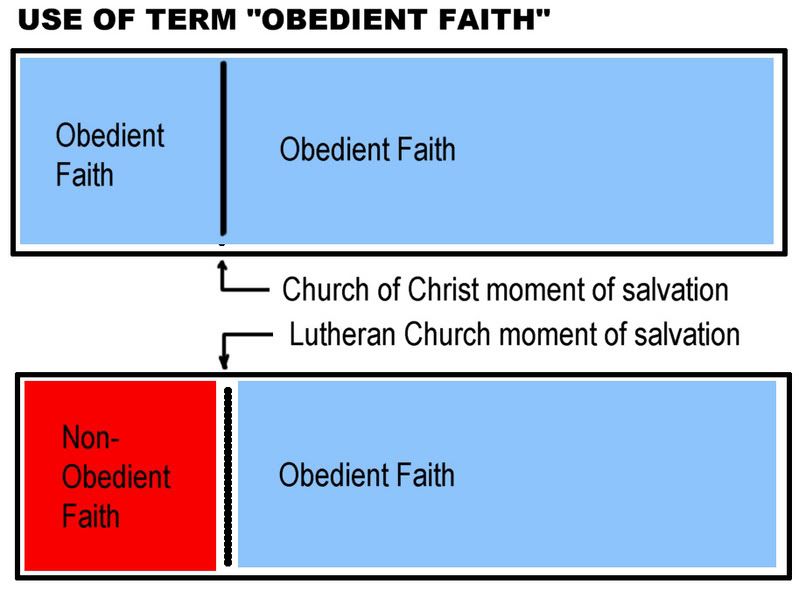 In this illustration is depicted two different views of salvation by faith. Salvation by faith, which is obedient instead of being a "dead faith" (Jas. 2:14ff), is and has always been the teaching in the churches of Christ. But in the Lutheran tradition there are two faiths being taught: one that is mental acceptance or assent of the message of Jesus Christ which has no obedience or requirement attached to it and the second one (in blue) is an "obedient faith" that follows salvation.
And one more thing. My friend looked at the illustration above and said that it appears to show everyone, including every lost person, as having an "obedient faith". I suppose that is the limitation of my illustration because it does not attempt to explain where everyone is that is lost or saved. The only thing my illustration is attempting to show is that "faith" as it is described in the Bible is an "obedient faith." The "faith alone" type (in red) which is part of the Lutheran doctrine, is a type of faith that is not positively portrayed in Scripture (Jas. 2:14,24,26).
I will probably have more to add to this. If you read this and have some thoughts or challenges, then please feel free to leave a comment or email me at discipler@yahoo.com.
May God bless you.